Welcome to my site for preachers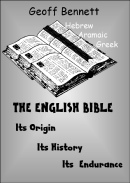 Here you will find help to improve your preaching with lessons on Homiletics and Hermeneutics. A full study of John's Gospel with 'self-help' worksheets. And some interesting articles. All these are free for you to use but if you want to use them in a church magazine etc please contact me. My 11 E-books and 3 Paperbacks can be purchased by clicking on the relevant flag. If you do not live in the United Kingdom or the United States go to Amazon in your country and type in the search box the name of the book you desire.
My prayer is you will be blessed by these studies








A compiling of the 4 Ebooks on John's Gospel. Revised and updated.